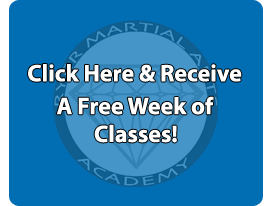 Personal History
Joshua Ryer is the owner of Ryer Martial Arts Academy. He has been involved in the martial arts since 1992. During this time, he's earned an Instructor level in the Counterpoint Tactical System, Doce Pares Eskrima, Gracie Jiu-Jitsu, and Kenpo Karate. Joshua's Master teacher is Zach Whitson, the Founder of the Counterpoint Tactical System.

Josh was born and raised in New Freedom, Pennsylvania. Josh always had a love for the martial arts as a child, but it wasn't until the age of ten that he would formally train. On his tenth birthday Josh was enrolled into a Taekwondo program at the local Y.M.C.A. One year later Josh's family relocated to Coral Springs, Florida where he enrolled at East West Karate and was introduced to Kenpo Karate. However it was not long before Josh's family moved back to Pennsylvania.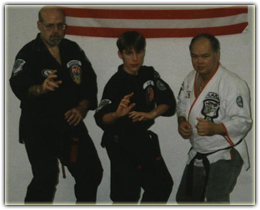 In April of 1994 Josh commenced his training in Kenpo Karate under Master Gary Ronemus in York, Pennsylvania. In the summer of 2000, Josh moved to western Pennsylvania to attend the University of Pittsburgh. With the help of his mentor Alex Dorsey, Josh founded the United Parker's Kenpo Karate Club a few months later. As the club became more successful; Josh established a full-time academy in March 2004 in Shadyside.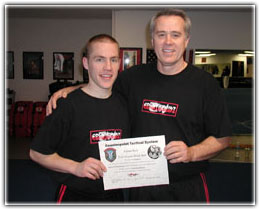 Understanding that the growth of his students' knowledge depends on the depth of his own knowledge; Josh has remained a student in the martial arts. In April of 2007, Josh was the first student under Master Zach Whitson to receive the rank of Black Belt in the Counterpoint Tactical System. The Counterpoint Tactical System, also known by the acronym CTS, is a weapon-based, integrated martial art. Although an eclectic martial art, the Counterpoint Tactical System's largest traditional influence can be found from Filipino Martial Arts.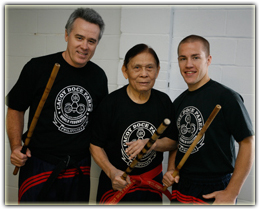 A significant amount of this Filipino influence has come from Master Zach Whitson's relationship with renowned Doce Pares Grandmaster "Cacoy" Canete. Over the years, Josh has had the opportunity to train with Grandmaster Canete and in June 2008 he was awarded the rank of Black Belt in Doce Pares Eskrima from Grandmaster Canete and Master Whitson. In addition to Filipino Martial Arts, Josh has studied Gracie Jiu-Jitsu under Professor Sonny Achille.

To this day, Josh continues to be steadfast in his training. In September 2012 Josh achieved the rank of Third Degree Black Belt in the Counterpoint Tactical System and awarded the title of "Full Instructor" by Master Zach Whitson. This is an incredible honor and Josh looks towards the future to perpetuate the martial arts; further the growth of his students; and lead his academy to new heights.

To contact Mr. Joshua Ryer, please click here.
Certifications
June 1997 - First Degree Black Belt in Kenpo Karate
Presented By Master Gary Ronemus
February 1998 - Second Degree Black Belt in Kenpo Karate
Presented By Master Gary Ronemus
February 2002 - Third Degree Black Belt in Kenpo Karate
Presented By Master Gary Ronemus
October 2005 - Fourth Degree Black Belt in Kenpo Karate
Presented By Grandmaster Richard "Huk" Planas and Master Zach Whitson
April 2007 - First Degree Black Belt in the Counterpoint Tactical System
Presented By Master Zach Whitson
June 2008 - First Degree Black Belt in Doce Pares Eskrima and Eskrido
Presented By Grandmaster Ciriaco "Cacoy" Canete and Master Zach Whitson
March 2009 - Blue Belt in Gracie Jiu-Jitsu
Presented By Professor Sonny Achille

September 2009 - Second Degree Black Belt in the Counterpoint Tactical System
Presented By Master Zach Whitson
July 2010 - Second Degree Black Belt in Doce Pares Eskrima and Eskrido
Presented By Master Zach Whitson
November 2010 - Parker/ Planas "System Patch" Recipient
Presented By Grandmaster Richard "Huk" Planas

September 2012 - Third Degree Black Belt in the Counterpoint Tactical System
Presented By Master Zach Whitson

April 2013 - Purple Belt in Gracie Jiu-Jitsu
Presented By Professor Sonny Achille

July 2013 - Third Degree Black Belt in Doce Pares Eskrima and Eskrido
Presented By Master Zach Whitson
Recommendations
"Mr. Ryer is a Black Belt in my Doce Pares System under Master Zach Whitson. He has hosted my seminar workshops in the US. His knowledge in FMA has enabled him to formulate programs that also complement other forms of Martial Arts. His school, Ryer Academy, doesn't only have the complete training equipment, it also adopts the latest Cacoy Doce Pares curriculum that teaches the practical yet combat-effective concepts in Eskrima." ~ Grandmaster Ciriaco"Cacoy" Canete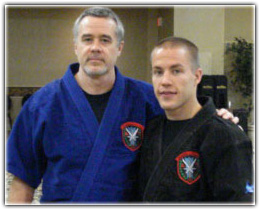 "Josh is a career martial artist. He began training at a very young age and has continued his quest for knowledge while maintaining his enthusiasm and passion throughout his career. The combination of Josh's passion for what he does combined with an unwavering work ethic make him both a great student and teacher of martial arts. But more than that, Josh has a quality of character that is very rare, this world would be a much better place if more people behaved and presented themselves as Josh does. I am honored to have Josh as not only my student but as a close friend that I admire. Josh's enthusiasm is infectious, his students pick up on his positive energy and respond with their own positive attitude. Josh is what people expect in a martial arts instructor and leader. We see marketing pitches for martial arts schools that tout the positive benefits of training--self-discipline, self-esteem and confidence , etc.-- however many only learn how to fight never developing the truly important aspects of the training. This is not the case with Josh, he is a great example of all those positive things. Josh Ryer is a young man of exceptional character, intelligence, work ethic and natural talent and these attributes make Josh is an exceptional martial artist and teacher. I am glad to know that this inherently good person and exceptional teacher is out there as an example to anyone that cares to pay attention and benefit from training in martial arts." ~ Master Zach Whitson